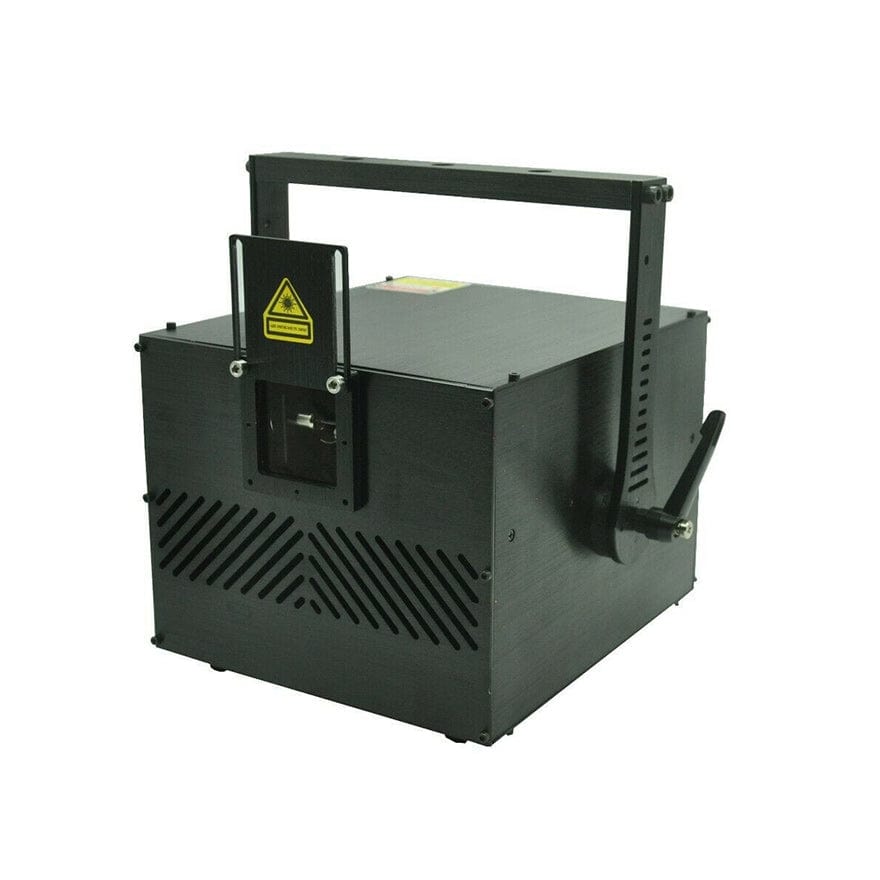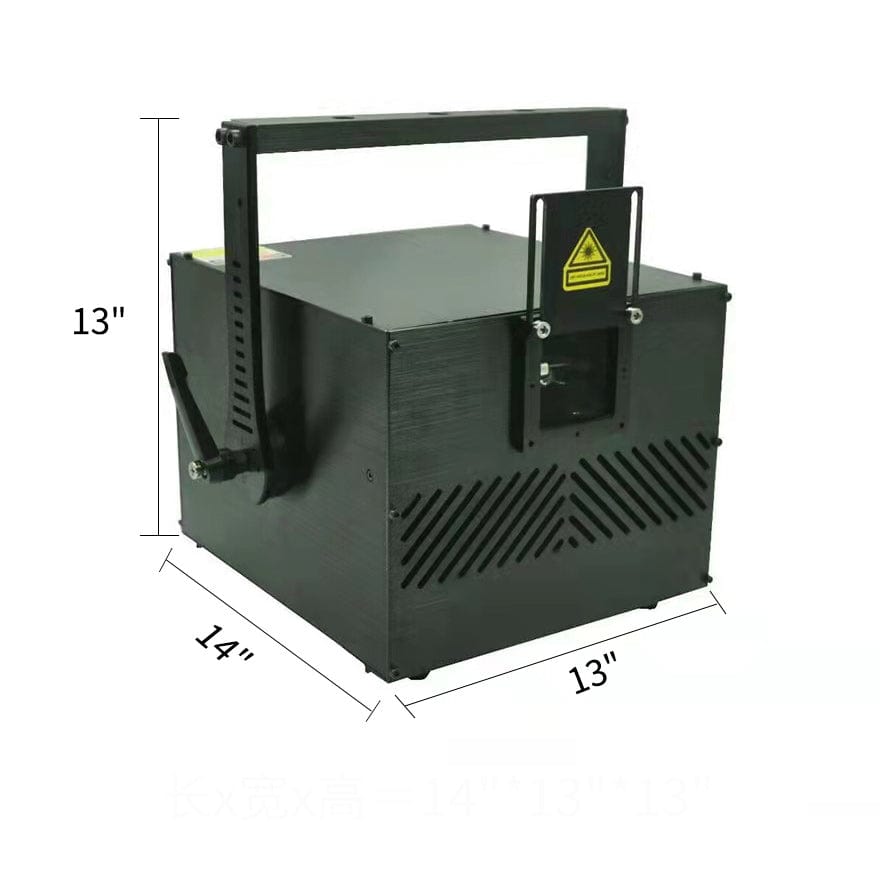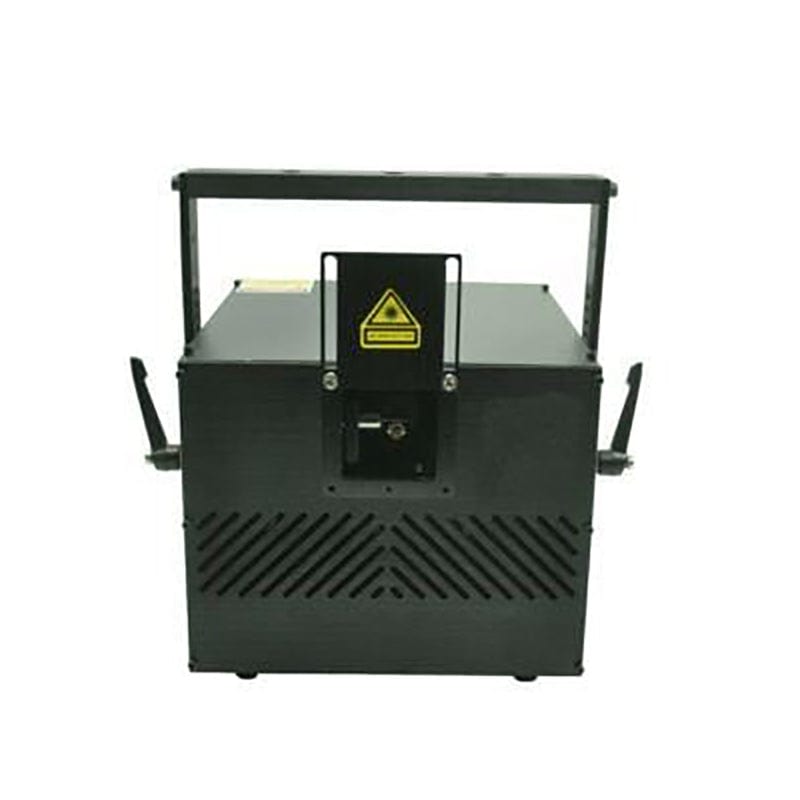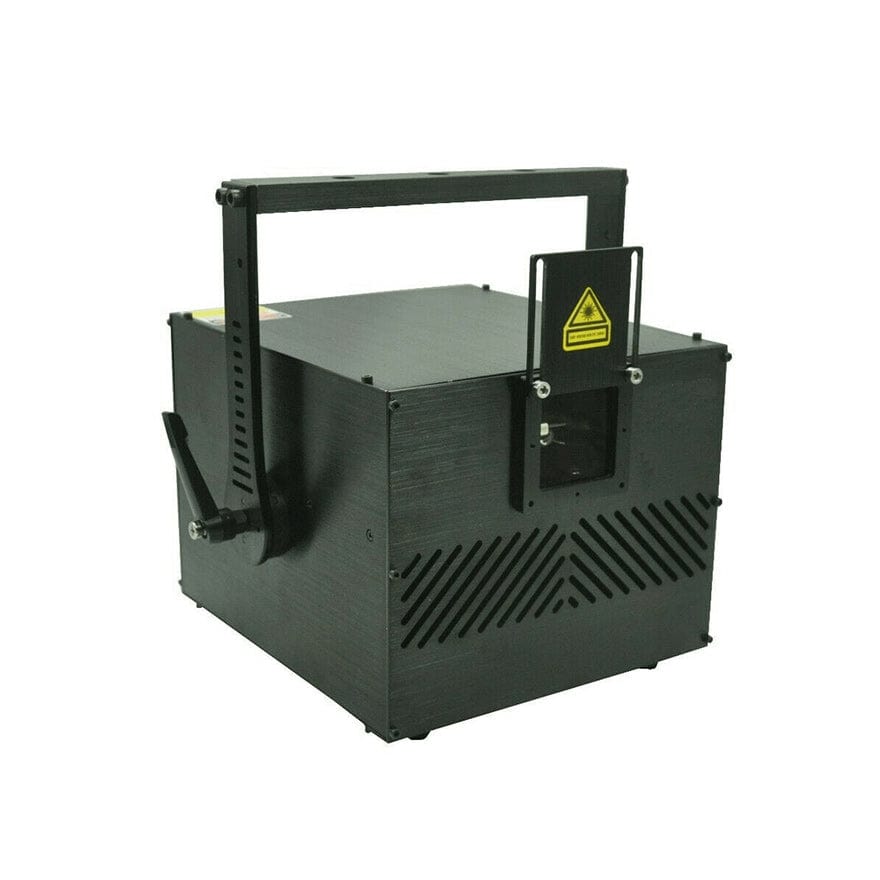 Stage Light
Regular price
$799.00
/
Tax included.
Free shipping on all orders

The DMX DJ Party Stage Laser Projector Light is a 2-Watt full-color RGB diode- the based laser system, with Pangolin's FB4 media server, integrated inside a robust housing. Our DMX DJ Party Stage Laser Projector Light is ideal for lighting designers as well as special FX companies, who want to integrate lasers, into any multimedia setup.
The DMX DJ Party Stage Laser Projector Light is a perfect show laser system for small to medium-sized venues. In addition, the unit's compact size and multimedia functionality make it ideal for use in large quantities on tours and related projects where vast numbers of lasers need to be used.
The DMX DJ Party Stage Laser Projector Light can also be used both indoors and outdoors, for the projection of laser graphics, logos, text, and laser billboard advertisements. DMX DJ Party Stage Laser Projector Light is suitable for venues/crowds of up to 2,900 people in capacity.
Offering easy control in three different ways: 
1. Console Mode - Over DMX or ArtNET, directly from a console. And we include over 1,500 FREE laser gobos for you to control, directly on the laser.
2. Streaming Mode – Allowing for direct control from a PC using Pangolin's QuickShow or Beyond Software (over Ethernet).
3. Auto Mode - Finally, we also offer auto-mode operation, where you can upload your desired laser content to the projector (this can be fully programmed shows, as well as single cues) and set the day, date, and time for the projection, and it will be done automatically for you. No trigger, PC, or control setup is required. A truly auto-play setup, ideal for permanent installations. 
In addition, ELITE PRO FB4 series laser projectors include Pangolin's QuickShow software completely FREE.
QuickShow laser show design software gives you the ability to design and create any sort of laser show effects you can imagine (from aerial beam effects to text, graphics, logos, and even fully programmed timeline shows), and you can then control those elements from any setup you desire – be it a lighting console, PC, or auto-mode. 
What's in the box?
The DMX DJ Party Stage Laser Projector Light package includes all of your main
accessories, free.
Laser show projector
FB4 Media Server
Protective flight case
QuickShow laser show design software
Ethernet / Artnet control cable
E-stop safety system and E-stop cables
Interlocks
Keys
Specifications
Product Name:

 

DMX DJ Party Stage Laser Projector Light
Type Of Laser:
Full-colour, Semiconductor diode laser system
Guaranteed Optical Output:

>2,000mW

Suitable For:
Smaller-sized venues and indoor events; laser shows and laser graphic displays
System Control:


Pangolin FB4 [Ethernet, ArtNet, DMX, ILDA | PC, Lighting Console, Auto Mode]

Scanning System:

30,000 Points per second @ 8°

Scan Angle:

50°

Safety:

Fully complies with the latest EN 60825-1 and FDA regulations

Weight:

6kg

Package Includes:

Power cord, 5

M

 CAT5 cable, E-STOP box with 10M cable, Set of 4 safety keys, 

3-pin

 interlock bypass plug, User guide.

R | G | B [mW]:

390 | 650 | 1100

Beam Size [mm]:

2 x 4

Beam Divergence:

<1mrad [Full Angle]

Modulation:

Analog 100kHz

Power Requirements:

100-230V/50Hz

Consumption:

Max. 200W

Operation Temperature:

10-40 °C

Ingress Rating:

IP 20

System Features:
All the adjustments, such as power output of each color, X & Y axes invert, X & Y size and position, etc., are managed digitally by the FB4 control system.
Scanning system protection.
Daisy chain of emergency STOP signal for multiple system "one-hit" operation.
Laser Safety Features:

Keyed interlock, Emission delay, Magnetic interlock, Scan-fail safety, Mechanical shutter, Adjustable aperture masking plate.

Notice:

*Due to Advanced Optical Correction technology used in our laser systems, each laser color's optical power output may slightly differ from the specification of the respective laser module(s) installed. This does not affect the total guaranteed power output.

Dimensions [mm]:
Length:

 

270
Width: 300
Height:

 

195
●24/7 Customer Support
Toll-free:+1(805)391-7106
Email:service@tech-life-online-store.com
●100% Money-Back Guarantee
30-day no reason to refund
●Delivery Time
Ships within 24 Hours
●Worldwide Express Shipping Available
7-14 Days Delivery
For every order traded, Tech-life-online-store donates a portion of the proceeds to the OXFAMFoundation. Your purchase will help this cause.Family and kids will be helped.